Latest build Version 3VO.2.50.080809


Included in the ROM (3VO.2.50.080809):


Features (you speak, I listen!):
New 23017 Windows Mobile 6.5 Standard core
Updated drivers and scripts
ROM Performance "tune up"
CUSTOMIZATION CUSTOMIZATION!!
UI Tweaks and additional Settings added for FULL customization
Custom Phone Canvas
WM 6.5 3VOLUTION Custom Titanium Sliding Panels
Many additional panels
Titanium Weather Panel (by Showaco, thanks!)
Option for Weather Icon on Clock Panel
Customized OEM packages
Customized splashes, backgrounds, canvas, and icons
New custom HTC Dialer canvas
Updated Settings and Scripts for better customization
Custom 3VO Style Menu's
Programs and Applications
:
HTC Album and Comm Manager
HTC Camera and Camcorder
Internet Explorer 5.0
JBED and Opera Mini 4.2
CeleTask and CeleCmd
Titanium Configurator
Titamiun Refresh
Office Mobile (including Pocket Word, Excel, and Powerpoint)
Office OneNote
Notepad
Windows Live (application and Titanium Panel)
Remote Desktop Client
SIM Manager and Task Manager
USB to PC
Basehue
Resco Explorer and Resco Regedit
OMAP Clock Set and OMAP Clock GUI (set clock speeds at idle and utilization)
SIM tools (including threading toggler)
WM5torage
Start Menu View Toggler (toggle from icon view to list view)
Adobe Reader LE 2.0
ClockOnTop Application (Settings to enable or disable in Date/Time)
SMS Bubbles app (Thanks Samon)
Set JogBar
Auto Keylock
RSS Hub
Light Config
eT9 Changer and Default Browser button selector
NETCF 3.5
3VO Transparent Wallpaper 2.50
3VO Button Customizer (Customize what your keys and buttons do)
ROM is Application unlocked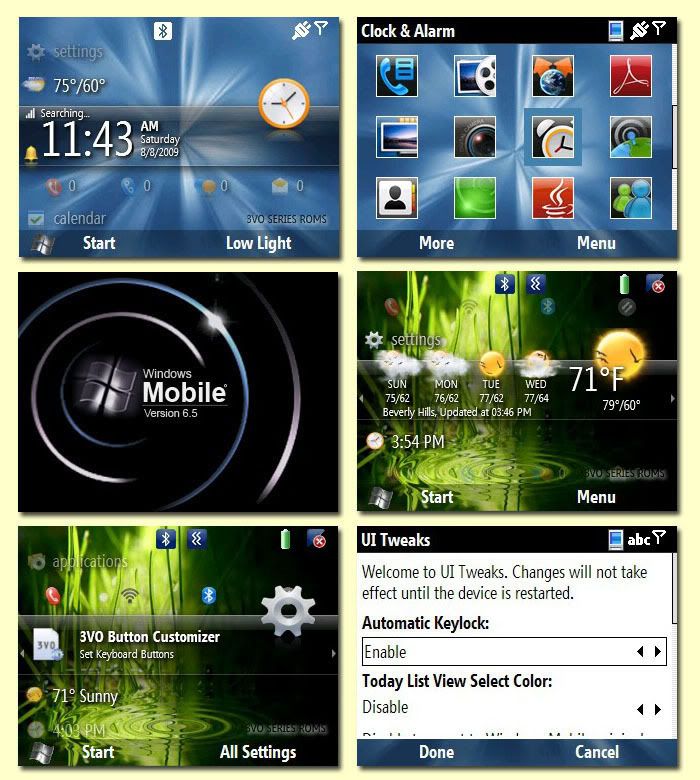 Changelog:
[Release 2.50 8-8-2009]
3VO.2.50.080809
Download here
<-- Get it now!
3VO.2.50.080809 Download Mirror <-- Coming soon!
Changes and fixes:
Built on the new 23017 core

ALL bugs reported fixed

Services optomized for speed and performance

Additional ring styles added

3VO UI Tweaks added

3VO Button Customization added

Customization for every corner of ROM

Toggle between Titamium Panels and Original Sliding Panels

Toggle Glossy Beveled Bars

Transparent Wallpaper 2.5

Updated Drivers for performance

Updated Custom Phone Canvas and Dial Screens

Updated Settings panel

Preview on Calender condensed mode

new 3VO Keymap changer (7 keyboard layouts)

updated ET9 with support for 11 languages

JBED bottom cutoff problem fixed
Source
:http://forum.xda-developers.com/showthread.php?t=523718
Special Thanks OOKPA
Rom Cooker from XDA Devolopers
Do you like Your ROMS and APPS??

Donations
OOKBA
VERY much appreciated!